INTERVIEW: Who Is Caroline Jones?
To say that Caroline Jones is multi-talented is an understatement. She is a singer, a songwriter, a producer, and a multi-instrumentalist -- and by multi, we mean quite the impressive list of instruments. The Connecticut-born musician released her single "Tough Guys" in October 2016, and is now looking ahead to 2017 as she prepares her forthcoming country album.
We recently learned all about Caroline when she stopped by iHeartRadio HQ for an exclusive interview. The country singer and songwriter talked to us about getting started in music, how she learned to play a multitude of instruments, her single "Tough Guys," and her upcoming full-length album.
RELATED VIDEO: Caroline Jones - "Tough Guys" Live Acoustic | iHeartRadio Live Sessions
On Her Musical Beginnings
For Caroline, her desire to pursue music all started at just nine years old. Growing up in Connecticut, she tells us that at nine, she would beg her parents for singing lessons ... and singing alone to one a certain Titanic classic. "I remember just trying to teach myself how to sing, and I remember actually singing a song called 'My Heart Will Go On' which was really popular at the time, Celine Dion -- which, coincidentally, the man who I co-produced this record with [Ric Wake] did that song. So it's amazing how things come full circle. But, I remember singing that song, and I knew I wanted to be a writer since I could read. I would just write all the time. And as soon as I started singing and realized I could put the lyrics to music, it was over."
The first time Caroline wrote a song was at ten years old. She tells us she wrote a song called "There's A Place," and "it was a pretty spiritual song."
When she was sweet 16, Caroline paid a visit to Nashville where she attended a writer's round at the city's famous Bluebird Cafe. It was during this trip that she became fascinated by Nashville's songwriting community and its many musicians. Soon, she began modeling her songwriting from some of the country music greats like Willie Nelson, Hank Williams, and Dolly Parton among others.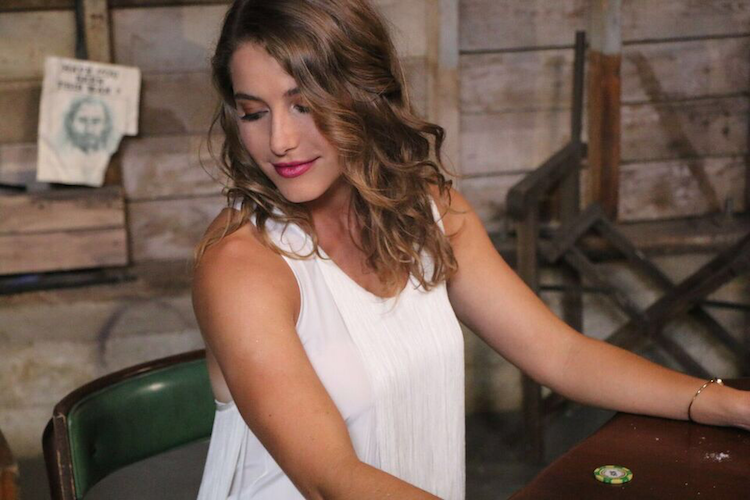 As previously mentioned, Caroline is a multi-instrumentalist -- it's almost like there isn't an instrument she doesn't know how to play. But her list includes the piano, acoustic guitar, six string banjo, five string banjo, four string banjo, the Dobro, and more.
On how she learned to play different instruments
"I took piano lessons when I was a little girl, and when I was about 17, I picked up the acoustic guitar after I went to Nashville, and was really inspired by the community of songwriters and musicians there. Because I did solo acoustic shows for so many years, I toured high schools and colleges and boarding schools, solo acoustic, I just started picking up instruments as ways to make my show more interesting and more compelling. Because it was just me and my stories, and my truth, and my songs up there. So I picked up the six string banjo, which is basically like a guitar that's a banjo, it has a banjo head on it. And then from there I started getting into acoustic blues, and would play in open tunings, and learned how to play Slide [guitar]. And once I learned how to do that, you can kind of pick up the five string banjo, the four string banjo, the Dobro. It becomes like a family of tunings and instrument-playing. So one just led to the other. It's a craft that I love as much as singing and songwriting, and I will forever be a student of it."
The one instrument she would like to learn to play? The harp. "It's very impractical, but I've always wanted to play the harp. How beautiful is the harp? It's like an angel, right? So, I would love to play the harp, but it's tough to carry around."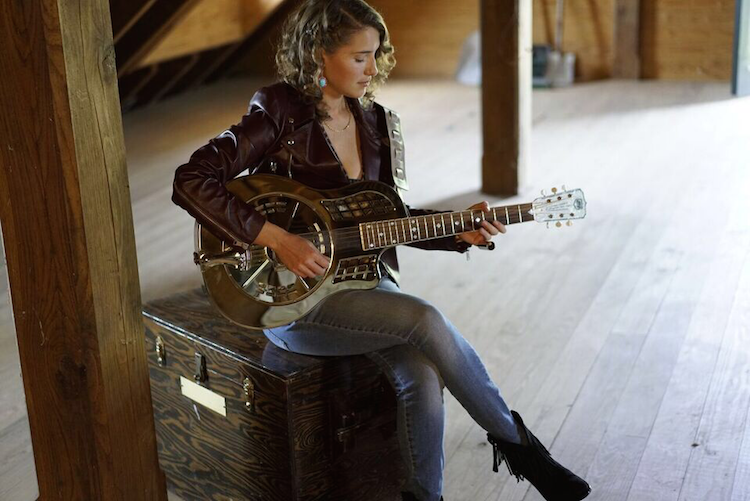 On the meaning & inspiration behind the lyrics of her single "Tough Guys"
Caroline has a full-length country album on the way, and the lead single from that record is a song called "Tough Guys," an awesome personal empowerment anthem.
"'Tough Guys' was inspired by ... I think we all have this deep desire to be our authentic selves, and to be accepted for who we are. But what I realized [and] what I learned from writing my own songs and trying to start my career in a slightly different way, and working on my craft and being all about the music, is you really can't control what other people think of you, and you really can't even trust what they think of you as a reflection of you because it's more likely a reflection of them. And so, I just wrote this kind of sassy, tongue-in-cheek, get-it-all-out song about if you don't like the way I am, it's fine. I'm still going to be myself. It's tough. It's your problem, it's not mine. And I think that's a really freeing place to get to, and I think we're all trying to get there, and take it day by day."
There is plenty more music from Caroline where "Tough Guys" came from. Caroline co-produced her forthcoming country album with Grammy and Academy Award-winning producer Ric Wake (who has worked with legends like Celine Dion, Mariah Carey, Whitney Houston, and Trisha Yearwood).
On what has been like putting her album together
"It was, I say this with no exaggeration, the most fun year of my life. The most fun experience of my life. We put together an incredible team. Ric Wake is my co-producer, Gustavo Celis is the engineer, and we just built these songs from scratch. We would start with an acoustic guitar, or a banjo part, or a drum loop. Nir Z [Zidkyahu] and Glenn Worf, who are Nashville legends, played bass and drums on this record, and I played all the other instruments. It was like writing each song a thousand times, because we'd write each part, each guitar part. What is the mandolin going to do? What is the banjo going to do here? We should add a synth. It's addicting as a creative person to constantly be adding layers and textures to your heart and soul, which is your songs."
Caroline's country album sounds like it's very eclectic. While fans can expect some "really country stuff," there is also some country pop songs as well, blending instruments like the banjo, Dobro, and Mandolin, with synths and programmed beats -- and "tons of background vocals" because Caroline tells us she's a "harmony freak." She adds, "It's a fun, uplifting, joyful country pop album. It really is. It's sunshine-y, it's positive. That's what I want to put into the world, and those are the kind of songs I like to write."